Samesurf is a cloud-based co-browsing tool designed to make onboarding new staff, holding virtual team meetings, and co-browsing with clients a breeze. Samesurf was one of the first co-browsing tools that all successors are now based on.
However, over time, it has fallen behind some of its competitors.
In reality, websites like Samesurf offer features and functionalities that the co-browsing tool simply doesn't have at its disposal. RemoteHQ offers whiteboard collaboration capabilities, a drag and drop-driven flexible tiling layout function, and a wide range of third-party integrations - all features Samesurf lacks.

Let's look at some of Samesurf's shortcomings and alternatives that fill the gaps.
Shortcomings of Samesurf?
Here's where we think Samesurf falls short:
Samesurf doesn't allow users to select a server location where it initiates its browser. As an example of this limitation, users in Europe or Asia have to communicate through North America, resulting in high latency between actions and poor visual quality of the browser. This adds 1-2 second delays and can cause frustration for users.
Samesurf's co-browsing functionalities don't allow for multiple web browser tabs to be used at once.
Users cannot copy content to their clipboard from the Samesurf browser.
Although Samesurf has control passing features, multiple users cannot control the co-browsing session at once. Instead, a session host must select another user if they wish to contribute to a co-browsing session. This limits the fluidity of a co-browsing experience and significantly slows down collaboration efforts.
Okay, so that's the shortcomings. It's not all bad, though. Here are the things we like:
Samesurf allows users to pre-select their own bookmarks, allowing them to start a co-browsing session with the selected tabs open and ready to collaborate on.
Users can schedule and invite other team members or clients to co-browsing sessions. And there's no need to export these invites to iCalendar or Google Calendar, as they appear in the Samesurf dashboard.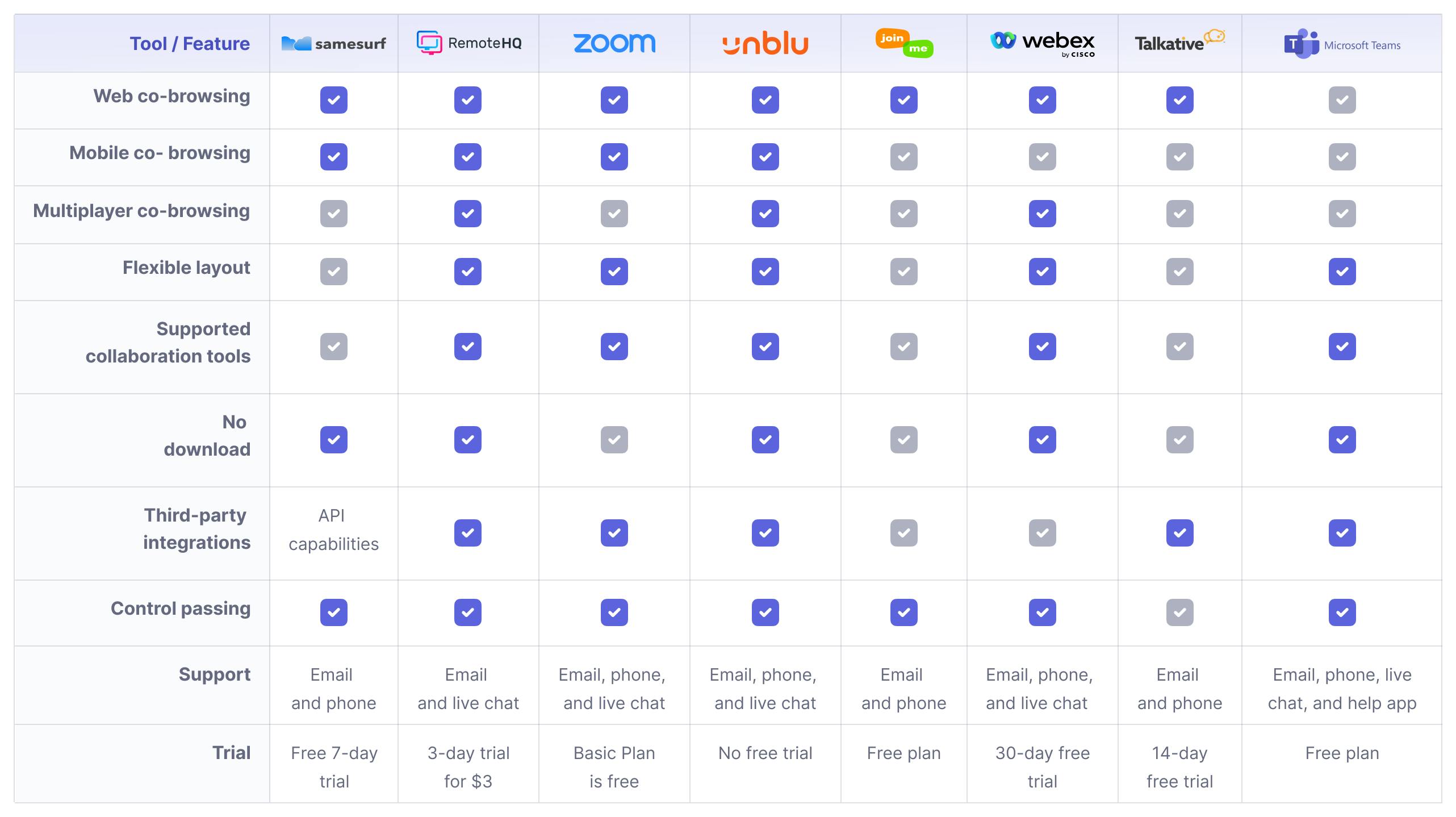 See full image here
The big problem with Samesurf?
Samesurf markets itself as an all-in-one co-browsing, videoconferencing, and collaboration solution. Which in theory sounds like the perfect solution for remote teams. The problem is, Samesurf isn't quite getting the basics right. The standard functionalities users come to expect from a well-developed co-browsing tool like a quality remote connection and a wide range of third-party integrations are lacking from Samesurf.
Because of Samesurf's inability to allow users to connect to a nearby server, high latency and lag let Samesurf down. Lag can make collaboration more of a frustration rather than a solution. And the tool's lack of out-of-the-box integrations may just be the final nail in the coffin for this collaboration software.
RemoteHQ

RemoteHQ is a cloud-based remote browser and virtual collaboration platform for teams of all sizes. It helps connect remote workers and teams with tools to streamline day-to-day operations. RemoteHQ also allows you to manage and oversee your team's operations while collaborating on projects in real-time. Best of all, it allows you to quickly and easily connect to the cloud to access all your work projects, tasks, messages, files, and documents.
Best Features:
Low latency co-browsing
HD video conferencing
Malware protection
No download or installation required
Share files and documents while presenting
Comes with tools you use every day, including Figma, Dropbox, Google Drive, and Microsoft Office
Automatically store call transcripts, audio recordings, files, conference notes, and more
Use Cases:
Offers integrations with Shared Notes, Google Drive, Trello, Microsoft Office, Webex, Intercom, and Slack (plus, the ability to integrate with Zoom is just around the corner)
Easily turn any website into a multi-user experience.
Browse and co-browse with fast load times and low latency.
Pros:
RemoteHQ works seamlessly across all devices, with no need for downloads, plugins, or any other technical or complicated set up.
RemoteHQ's flexible tiling layout makes for a customizable user interface. This makes collaborations and brainstorming ideas fast, fun, and productive.
Unlike other competitors, RemoteHQ offers universal co-browsing. This does away with control passing and allows all users to contribute to a co-browsing session in real-time.
RemoteHQ allows users to backtrack and view all their meetings notes after a videoconference or co-browsing session is finished.
Cons:
As RemoteHQ is a relatively new tool, some features like controlling guest admissions are limited. Although, new features, functionalities, and updates are being added all the time.
Zoom

Zoom is a cloud-based video conferencing solution and real-time collaboration platform that enables users to connect all their devices, including Android and iOS-based devices, in real-time. Zoom's HD quality and easy-to-use interface allow users to see, hear, and chat with each other hassle-free.
Best Features:
Screen sharing
Video recording
Instant messaging
File transfers
Whiteboarding capabilities
Use Cases:
Offers a secure, convenient, and affordable way to meet, share, and collaborate with remote teams.
Pros:
One of the most widely used video conferencing platforms in the world.
Zoom's free version allows hosts to hold an unlimited amount of meetings, with up to 100 participants, for 40 minutes at a time.
Cons:
Prone to high latency.
Although video quality of 1080p or higher has become a standard for other videoconferencing platforms, Zoom is often limited to 720p.
Unlike some competitors, Zoom requires users to download the platform or app onto their devices.
UnBlu
UnBlu describes itself as a "conversational platform for financial services". Working alongside over 160 financial institutes worldwide, users can offer personalized customer support, troubleshoot issues through live messaging, and offer audio conferencing to their client base all at a touch of a button.
Best Features:
Schedule meetings
Screen share
Voice chat
Security-based encrypted messaging, protecting sensitive data
Use Cases:
Secure, convenient customer service to financial and online banking customers.
One-on-one chat and video calls, offering customers premium support.
Pros:
Specifically designed for financial customer support and services.
The customer or collaborating attendees aren't required to download or install any software to use the application.
Cons:
UnBlu's co-browsing requires both the host and attendees to configure and install the program for each site they wish to collaborate on. This means co-browsing the internet freely on UnBlu isn't as accessible as it is with some of its competitors.
UnBlu's pricing is comparatively expensive.
Join.me

Join.me is a powerful, easy-to-use screen sharing and online meeting solution that lets you host online meetings with anyone on any laptop, computer, or mobile device. The Join.me collaboration software is built from the ground up for security, reliability, and ease of use.
Best Features:
Video chat
Webinars
Screen sharing
Meeting scheduling and invitations
Use Cases:
Share the screen of your mobile device, Mac, or PC to facilitate remote support, training, or presentations.
Pros:
Join.me is an affordable option, offering free VOIP calls and screen sharing to customers using their free plan.
Integrates with Trello, Slack, G Suite, Office 365, and more.
Cons:
Join.me doesn't offer a true co-browsing experience. Rather, it is limited to videoconferencing, virtual meetings, screen sharing, and audio calls. 
Join.me is subject to high latency.
Judge.me's videoconferencing interface is limited in functionality compare to its competitors.
Webex

With Cisco's Webex team collaboration app built into your PC, Mac, or mobile device, you can access the app from anywhere in the world. No matter if you're in a boardroom or the branch office, on the road, or at home, you can instantly communicate and collaborate with anyone in the world through voice calls, videoconferencing, and web meetings.
Best Features:
HD video conferencing
Proximity joining and sharing
Closed captions
Integrates with Zoom, Microsoft Teams, and Slack
Use Cases:
Give your team access to a virtual meeting room from any device, anywhere, and anytime.
Provide your sales team with all the tools they need to convert and close sales.
Pros:
Webex can be used through Windows, Mac, iOS, or Android app. Or users can simply join meetings through their browser without the need to download and install and software.
Webex's video quality is available up to 1080p.
Cons:
The browser based version is limited in its features and functionality compared to the app version.
Webex's platforms have had security issues in the past, leading to uninvited participants crashing conference calls and collaborations.
Talkative

Talkative is a Saas tool for live chat, video chat, and co-browsing. It provides users with an all-in-one customer support solution to meet their business needs - regardless of whether they're a startup, small business, or large enterprise.
Best Features:
AI virtual agent
Web callbacks
Social media messaging
Video and voice chat
Use Cases:
Leverage video and live chat to boost online sales.
Assist customers in completing their online journey with real-time customer support.
Pros:
Talkative's support team is well-known for their excellent customer service.
The Talkative team provides customized packages to suit a business's requirements.
Cons:
Compared to the other options on this list, it is the most expensive option.
Talkative is limited to website co-browsing and doesn't offer a mobile application.
Microsoft Teams

Microsoft Teams is a workspace based in Office 365. It combines group messaging, meetings, and shared editing so teams can connect and collaborate more efficiently. It has integrated voice, video calling, and screen sharing functionality that allows users to communicate with one another. Team members also enable the sharing of files, folders, and other docs, that are all stored on OneDrive for quick and easy access.
Best Features:
Online video and screen sharing
Live chat function
Audio conferencing
Document storage in SharePoint
Use Cases:
Increase the efficiency and effectiveness of your team by working together in real-time.
Access Microsoft Teams from any device, anytime and anywhere.
Pros:
Microsoft Teams is available to Microsoft 365 users at no additional cost.
Third-party applications like Google Drive, Dropbox, and Trello are all integrable onto the Microsoft Teams platforms.
Cons:
Files that are shared during a collaboration are stored and structured in a confusing way. All files are dumped in a root folder and if any team member tries to organize or move anything, the links to the files break for all users.
Server connection time can be frustratingly slow.
FAQ
Which collaboration software is the easiest to onboard an entire team?
Previously, the only way a team could collaborate was through a cloud-based virtual drive. This method worked fine but, for team leaders, it's proven to be slow and impractical. Thankfully, collaboration software, like RemoteHQ, allows team leaders to onboard entire teams in just a few clicks.
What are the uses of collaboration software?
Collaboration software gives managers a real-time view of the most up-to-date data from their teams, so they can work with them more efficiently and address any business issues on the spot. The best collaboration software allows users to check their email, view documents, collaborate in a web browser, and more.
Conclusion
Cloud-based co-browsing is a fantastic tool for virtual meetings and team collaborations. However, not all co-browsing software is created equal, with some collaboration websites like Samesurf falling short, while others hitting it out of the park.