The Best Team Collaboration Software for Small Businesses & Startups
Updated March 6th, 2022
With many workplaces now scattered across the globe, different time zones, miscommunication, and the inability to work alongside fellow co-workers and meet directly with clients makes it difficult for team members to work effectively and efficiently.
Thankfully, with the help of recently developed software, it's now easier than ever before to collaborate.
So instead of time-consuming back-and-forths, time delays, and breakdowns in communication, it's time to combat the many challenges posed by remote work with a team collaboration software that's just right for your small business or startup.
What is Team Collaboration Software?
Team Collaboration software is any software-based collaboration platform that facilitates real time communication between multiple users of a team. No matter the location, collaborators can share files, collectively work on projects, host remote meetings, and much more, through a collaborative user-interface.
Why Do You Need Collaboration Software?
Office-based tasks that were once completed without a second thought have become much more difficult in a remote setting.
This is where collaborative tools shine.
Where office-based work meetings and desk side discussion were once the go-to medium for collaboration and the exchange of information, collaborative software is now being used by businesses everywhere to make face-to-face interactions possible once more. Although virtual, team members can once again take part in project collaboration, brainstorm ideas, and collectively complete work-based projects just as though they were seated in the same office space.
What Are The Advantages Of Using Collaborative Software?
With today's businesses now subject to the competition of a global market, there is a greater need for them to be more flexible, productive, and adaptable than ever before.
Cue the entry of collaboration software. A tool that will give your business the competitive edge it needs to succeed.
Here are the key advantages of collaborative tools:
Improved productivity. Collaborative software helps your team establish prompt decision making. This boosts productivity and increases efficiency not only within the team itself, but with team members and managerial staff from other branches of your business.
Effective project management. Well-designed online collaboration tools possess capabilities that facilitate the sharing of calendars, timetables, tasks, and status updates. While additional collaboration features, such as instant messaging, and functionalities, like screen sharing, make project management and project planning remote based friendly. This significantly reduces the need for notoriously slow text-based communication, like emailing, and makes cultivating effective project management a breeze.
Efficient team collaboration. Collaborative software provides efficient remote team collaboration by providing the real-time aggregation of information and data across multiple user devices. Collaboration software also helps with coordinating schedules and tasks, arranging meetings, and maintaining contact between team members - all essential to the performance of remote teams.
Strengthened team morale. Real time collaboration makes it easier for team members to stay connected throughout their day, allowing them to jump in a video, audio, or text-based chat with a simple click of a button. The ability to see your colleagues' faces when in need of help or advice is invaluable. It builds trust between co-workers, strengthens workplace relationships, and boosts overall team morale.
Productive communication. The best collaboration software solutions feature session artifacts, collective notes, or live chat. This allows any party to jump in and start contributing, editing, and reviewing any video recordings, notes, and files that were shared directly between users or an entire team.
Secure collaborative browsing and file distribution. As long as the base technology is up to the task, one of collaboration software's true strengths is safe and secure file-sharing and co-browsing. This significantly limits or eliminates the risk of exposing sensitive information and protects against nefarious software like viruses and malware.
What Does Collaboration Software Do?
There's a long list of the different functionalities that a collaboration solution offers users. These include:
Communication tools. At their core, collaboration software allows users to correspond with their network of co-workers, partners, and clients in a convenient manner. They connect people through instant messaging systems, videoconferences, voice calls, live text-based chats, or social networks.
File sharing. Collaborative solutions facilitate file sharing through a cloud-based environment. This simplifies the way remote users share files, like spreadsheets, templates, documents, images, videos, and notes.
Document management. Instead of each user sending edits and revisions back and forth between one another, collaboration software enables multiple people to edit a document at the same time - just like you would in Google Docs or a similar application.
Task management. Project managers and collaborating team members can use the features of collaborative tools to assign tasks and delegate responsibilities to each other in just a few clicks of a button.
Permission management. Collaboration software facilitates permission management through a shared workspace. This prevents the need to authorize clearance for each collaborating member and ensures everyone has only the level of access they need to complete their tasks - all without the risk of exposing sensitive information.
Which Collaborative Tool Is Best?
Not all collaborative tools are cut from the same cloth, some collaborative software leveraging different base technology than others. This can make some collaborative apps more suitable for specific tasks and ultimately causing them to be more applicable to different industries.
Here are some features and functionalities to look out for when choosing the best collaborative tool for your business.
Functionality
We've all attended presentations or meetings that are plagued by technical disruptions, lag, and general haphazardness. Aside from weak internet connections, frustrating interruptions such as these can be caused by how the app was developed.
For instance, some collaborative tools connect peers with tech that requires the streaming of large amounts of data. While other tools, like RemoteHQ, are based upon tech that not only share small amounts of peer-to-peer data (without sacrificing video and audio quality) but also use multiple server locations throughout the world. This means that low latency and high fidelity is maintained throughout a collaborative session, making the collaboration session that feels fast, reliable, and agile enough to keep up with the demands of your entire team.
Accessibility
Where some SaaS collaborative tools require users to download and install a program, others are run straight from a remote browser. This allows the application to be launched and run by simply clicking a shared link - no downloads or installations required.
Scalability
As your team and business grow, the tools you use must have the ability to grow with you. Therefore, it is important to choose a collaboration software that possesses the ability to scale.
This includes scalability in terms of
the number of participants that can take part in a collaborative session,
the size of files that can be shared during meetings and calls,
the amount of session artifacts that can be stored for later reference,
the capacity to scale geographically without sacrificing the quality of video, audio, and browser speed,
and the ability to add new features and third-party integrations as needed.
Integration
Well-developed collaboration software facilitates a range of third-party integrations. Provided by APIs, other companies' products to integrate with the software. Software like those run on Google Drive services, Dropbox, Salesforce, WebEx, and CRM software can all be integrated with the very best co-browsing tools.
Communication
The best online collaboration tools will help you stay in touch with your employees, just as if they were sitting next to you in an office space. Instead of clunky interactions and lack of communication, you should be able to keep track of the progress of each project and streamline the completion of each task with very little effort.
What Are The Types of Collaborative Software?
Although there are often crossovers between the various features and functionalities that different collaborative software tools offer, more often than not they'll possess their own specialities that better suit different businesses and industries.
Such specialities place them into one of these collaborative categories:
All-purpose collaboration software
Project management
Asynchronous communication
Visual collaboration
Sales CRM
Document sharing
Best Team Collaboration software For Small Businesses
So what is the best team collaboration software for your small business?
Let's check them out. In our view all of these tools meet the criteria for collaboration software.
All-Purpose Collaboration Software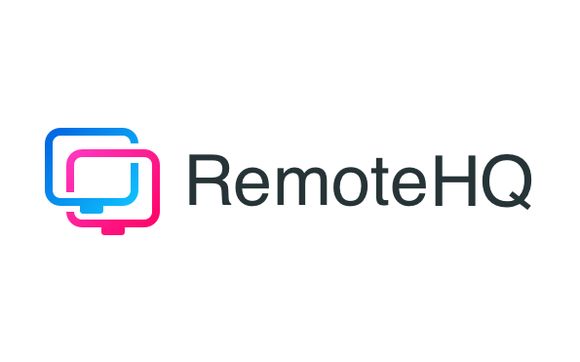 RemoteHQ is a next-generation browser-based team collaboration tool. It facilitates communication and collaboration between distributed teams to help speed up project delivery. With its user-friendly UI, one-of-a-kind tiled visual collaboration layout, cloud storage capabilities, and multiple server locations, RemoteHQ is an industry-leading solution to all your collaborative needs.
Best of all, new features are being added all the time.
Now with Zoom integration and remote API capabilities, websites are able to use the tool from any website of their choosing.
Favorite Features:
Turn any website immediately collaborative with co-browsing functionalities
Unique drag-and-drop tiled layout allows users to customize their dashboard and workflow to their liking
Industry-leading secure, ephemeral browser
Worldwide server locations serves to reduce lagging and untimely interruptions
Shared whiteboard application enables users to highlight, demonstrate, and draw on any collaborative file or website
App integrations, including Trello, WebEx, Intercom, Slack, and many more
Best for:
Best collaboration software for small businesses, companies, and larger organizations.
Pricing:
3-day free trial
Professional Plan - $15/user per month
Business Plan - $30/user per month
Enterprise Plan - Contact us for a personalized payment plan
Runner-Up: Zoom
Zoom is a cloud-based video conference and collaboration platform that provides high definition video, voice, screen sharing, and chat functionality. Whether it's a quick sales call with customers or an on-demand teleconference with team members across the globe, Zoom brings people together in real time to collaborate quickly and effectively.
Favorite Features:
Share your screen and presentations with built-in HD video conferencing
Join conference calls with anyone, anywhere
Record, stream, and share content in real-time
Integrates seamlessly with RemoteHQ
Best for:
Zoom is an online team collaboration software that is great for those businesses that require a collaboration tool that focuses primarily on video conferencing.
Pricing:
Free Plan - unlimited group meetings capped at a 40-minute time limit
Pro Plan - $150/year per license
Small Businesses Plan - $190/year per license
Enterprise Plan - $240/year per license
Project Management
Best In Class: Asana
Asana is one of the top team collaboration software options currently available. With Asana's many project management tools, your team can organize tasks and projects in any way that works best for them - whether that is through the use of Kanban Boards or with a set of customizable views.
Favorite Features:
Fully customizable user dashboards for workflow customization
Integrate Gmail or Outlook to automatically turn emails into tasks
Schedule tasks and meetings with Asana's custom calendar
Android and iOS compatible
Best for:
Asana is a virtual team collaboration software that's great for small, medium, or large-sized businesses and enterprises.
Pricing:
Basic Plan - free, but lacks Asana's advanced features
Premium Plan - $12/month per user
Business Plan - $25/month per user
Enterprise Plan -custom pricing model
Runner Up: Trello
Trello is a collaboration tool that organizes your projects into boards. In a single glance, Trello's Kanban Board-based interface tells you what's being worked on, who's working on it, and when it's likely to be finished. You can collect ideas, tasks, photos, and anything else that matters to your project. Use lists to break down all the actionable steps you need to take and make sure that everything is organized, up-to-date, and available wherever you go.
Favorite Features:
Group tasks by project, by priority, or any other division you'd like
Create separate boards for each project and keep them all in sync
Add checklists, due dates, labels, attachments, and more to your boards
Annotate anything with Trello's MockFlow AnnotatePro
Best for:
Trello is best suited for startups, freelance workers and small businesses who want to increase workflow productivity.
Pricing:
Free Plan - lacks Trello's advance features, like the ability to store files larger than 10MB/file
Standard Plan - $5/user per month, billed annually
Premium Plan - $10/user per month, billed annually
Enterprise Plan - $17.50/user per month, billed annually
Asynchronous Communication
Best in Class: Slack
For many distributed teams, Slack has become the central hub for communication. The software application offers team collaboration by providing a platform for real-time messaging, file sharing, and voice call or videoconferencing. The tool integrates with a variety of third-party applications, including Google Drive, Office 365, Salesforce, Hubspot, Microsoft Teams, and Webex. Slack is available as a desktop application, as a mobile app, or as a browser-based application.
Favorite Features:
A single place for teams to connect, collaborate, and share ideas, files, and information
Very easy to set up and use
Offers a wide range of third-party integrations
Enterprise-grade data protection
Best for:
Slack is suited to just about every remote team, freelancer, or small to large workgroups.
Pricing:
Free plan - 10 integrations and 1:1 voice and video calls
Pro Plan - $6.67/month, billed annually
Business+ Plan - $12.50/month, billed annually
Enterprise Grid Plan - contact sales for custom plan options
Runner-Up: Microsoft Teams
Microsoft Teams is a collaborative workspace in Office 365 that provides real-time messaging, voice and VOIP calls, videoconferencing, and a range of different application integrations. So whether your employees are centralized or distributed, speak different languages, or work from multiple devices, Microsoft Teams is a superb choice for organizations that wish to improve overall teamwork and work management.
Favorite Features:
Breakout rooms allow users to meet and talk in a private group chat
Live transcriptions for ease of note taking and comprehension
Meeting recaps makes checking back in with past events a breeze
Message translation allows collaboration between multilingual teams
Mobile app available for both iOS and Android
Best for:
Best collaboration software free of cluttered UIs and overcomplicated features.
Pricing:
Free Plan - group meetings limited to 60 minutes
Essentials Plan - $4/user per month
Business Basic Plan - $5/user per month
Business Standard Plan - $12.50/user per month
Visual Collaboration
Best in Class: Miro
Miro is a visually based software application that enables users to collaborate on projects in a virtual environment. The software allows users to share files, chat, and work together on projects in real-time. Miro is a great tool for team collaboration and, thanks to its unique visually designed interface, can be used for a variety of purposes, including project planning, ideation, and problem solving.
Favorite Features:
A wide range of templates and frameworks
A ton of widgets that can be used on Miro's boards, including sticky notes, arrows, and a variety of shapes
Multiplayer collaboration
Screen sharing and presentation capabilities
Best for:
Miro is great for groups who need to share, brainstorm, and visually organize data and information in real-time via a whiteboard or diagramming.
Pricing:
Free Plan - 3 editable boards and a selection of pre-made templates.
Team Plan - $8/month
Business Plan - $16/month
Enterprise Plan - contact the sales team for custom pricing options
Runner-Up: Figma
Figma is a web-based design collaboration
software that enables multiple users to work on the same design project simultaneously. The tool offers a wide range of features, such as vector drawing tools, layer management, and prototyping tools that allow designers to create high-quality designs. Aside from its design features, the app allows collaborators to share files, chat in real-time, and provide design feedback.
Favorite Features:
UI and UX design features
Wide range of graphic design tools
A ton of design and developer integrations, including Zeplin, Avocode, and GitLab
Collaboration and productivity integrations include Slack, Notion, Asana, Dropbox, Trello, Jira, and a heap more
Best for:
Figma is best for teams that need to share, collaborate, and work on design-based projects like designing an app or a website, visualizing the site architecture; Leveling up your slide presentation.
Pricing:
Free Plan - includes unlimited personal files and collaborators
Professional Plan - $12/editor per month, billed annually
Organization Plan - $45/editor per month, billed annually
Enterprise Plan - $75/editor per month, billed annually
Sales Team Collaboration (with CRM)
Best in Class: HubSpot CRM
Among many other utilizations, like sales management and email marketing, HubSpot's CRM tool has a wide range of collaborative capabilities that are perfect for customer support-focused distributed teams. The HubSpot tool is available in both a free or paid version. The free version, CMS Hub Starter, gives users access to both live chat, and a shared universal inbox.

While the paid versions, available in HubSpot's tiered payment options, allow users to deliver a unique customer experience with advanced features like customer tracking and customer activity logging. These functionalities are all found in one place, allowing team members to view, manage, assign, and interact with every customer query in real-time.
Favorite Features:
Free live chat and shared email inbox
Contact management and call tracking capabilities
Team ad management and lead generation functionalities
Conversation inbox and ticketing system
Best for:
Best tool for small to large-sized businesses looking for an affordable solution for both sales CRM, marketing, and operations management
Pricing:
Free Plan/Version - gain access to both live chat and shared inbox capabilities
Starter Plan - $23/month, billed annually
Professional Plan - $300/month, billed annually
Enterprise Plan - $1,200/month, billed annually
Runner-Up: Pipedrive
Pipedrive is a sales CRM-focused software program that enables users to collaborate on projects by sharing files and real-time collaboration. Aside from the application's comprehensive customer relationship management system, Pipedrive integrates with over 300 different third-party apps, like Zoom Meetings, Slack, and Google Meet. This adds a range of remote team communication capabilities, like voice and video call, email marketing, and resource management.
Favorite Features:
Protect sensitive customer and company data with multiple security and privacy features
Integrable chatbots for automated communications with customers, leads, and website visitors
Email marketing integrations
Goal setting, activity tracking, and customizable sales reports
Best for:
Pipedrive is best for distributed and remote sales teams. It covers all aspects of the sales funnel while possessing a bunch of collaborative functionalities that are sure to assist efficiency and conversions.
Pricing:
Essential Plan - $12.50/user per month, billed annually
Advanced Plan - $24.90/user per month, billed annually
Professional Plan - $49.90/user per month, billed annually
Enterprise Plan - $99/user per month, billed annually
Document Sharing
Best in Class: Google Suite
Google Suite is a one-and-done document sharing and collaboration tool that gives you access to a wide range of Google apps. A G Suite account will give you access to Google Docs, Sheets, Slides, Meet, Google Calendar and, most importantly for file sharing, Google Drive. Google Suit is completely cloud-based, meaning users can create, share, and collaborate in real time on documents from any device with an internet connection.
Favorite Features:
Gain access to Google Workspace's extensive range of applications
Multiple users can leave edits, comments, and suggestions on documents, slides, and spreadsheets in real-time
Store and share all your team's work in one place
Best for:
Whether it be creation, collaboration, or simple document sharing, Google Suite has something for all businesses, big or small.
Pricing:
Business Starter Plan - $6/month per user
Business Standard Plan - $12/month per user
Business Plus Plan - $18/month per user
Enterprise Plan - contact the sales team for custom pricing options
Runner-Up: Dropbox
Dropbox is a cloud-based document sharing application that allows users to share and store files and folders. Collaborating members can access shared files from their computer, phones, or tablets, editing and syncing changes across multiple accounts. Files can also be made public, allowing non-Dropbox members to jump in, download, and save files for later use.
Favorite Features:
Shared files and folders are protected from unwanted edits, deletions, hacks, and malicious viruses by Dropbox's recovery capabilities
Team management functionalities enable management staff to gain actionable insights into their team's activities
Integrable with other third-party applications like Slack and Zoom
Best for:
Dropbox is a lightweight and easy-to-use application, perfect for anybody who needs to share photos, documents, and other files with collaborating colleagues.
Pricing:
Basic Plan - free
Plus Plan - $9.99/month, billed annually
Family Plan - $16.99/month, billed annually
Why Try RemoteHQ
RemoteHQ takes the best of what collaboration and co-browsing platforms have to offer and rolls it up into a widely accessible and easy-to-use remote-browser based application. RemoteHQ turns any web page instantly collaborative, making team member to team member or sales representative and client interactions more face-to-face like than ever before.
RemoteHQ also has multiple server locations across the globe, meaning the location of a user determines which remote servers the remote-browser accesses. This optimizes the speed, quality, and latency of both the connection and a user's communicative experience.
RemoteHQ is also a great defense against the fraudulent practice of phishing, a common practice used to steal the login information of a user by posing as a legitimate website. To combat this, RemoteHQ's collaborative sessions are hosted on an ephemeral browser. That way, if a user opens an unsafe link that may expose personal data or unknowingly expose a system to nefarious software, the server-based ephemeral browser works to protect the user's device.
Conclusion
Collaborative software can be used for virtual meetings, online training, project management, and a whole heap more.
So whether your small business wishes to focus on increasing productivity, boosting team morale and customer empathy or cultivating better relationships between co-workers or clients, the right collaborative tool could well prove to be the catalyst for success you've been searching for.