Feature Updates - March 2022
For the past few months we have been heads down working on some exciting game-changing features that we are going to be rolling out soon.
In the meantime we got a lot of valuable feedback from our customers and we wouldn't be ourselves if we didn't act on that. In this post we'd like to share some of the most highly asked for features, that we already released for everyone to enjoy!
Follow My Layout
In a RemoteHQ session you can organize tiles as you see fit. Two apps side-by-side and participants in the gutter? No problem. Now you can also share your layout and have other participants follow it. Whenever you reorganize tiles - you can be sure everyone will see what you see.
Select who can control an app
Want to use Remote Browser or any other app with a lot of guests, but only allow certain guests to control it? We got you covered! You now have a fine grained control of which guest can control.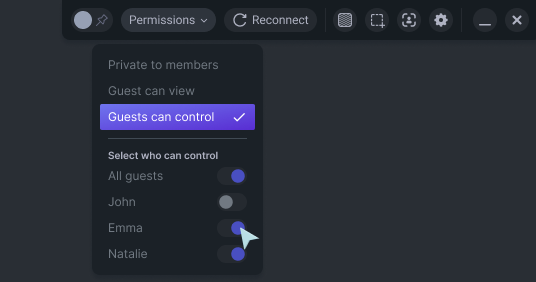 Control who can speak
If you're a teacher or have calls with a group of guests, you probably already had to use our "mute participant" feature. Now apart from the ability to mute participants, we also allow you to unmute them, but only if you're the one who muted them in the first place.
Integration with Intercom
Is your company using Intercom already? With our integration you can start a Remote Browser from within the Intercom Chat and have your customer join with a single click. It's the fastest way of giving a demo of your product or troubleshooting issues. Thanks to Remote Browser you and your customer can navigate any page collaboratively, without having to share a screen. Learn more about it here.
Privacy mode in Remote Browser
Worried about showing sensitive data in the Remote Browser to other participants (e.g. when logging in)? Now you can toggle privacy mode on, which will hide the browser content from everyone else. This allows you to browse safely and securely without the watchful eyes of your participants.
Did you know?
We accept payments via Google Pay & Apple Pay
You can launch two instances of Remote Browser in a session
You can use Chrome, Firefox and Brave in Remote Browser
You can end session for everyone, or just you
You can accept users joining the session, or start a new session with them. Perfect for back-to-back meetings.
That's it for now! Stay safe and stay tuned for more updates.
Check out all of the RemoteHQ features.