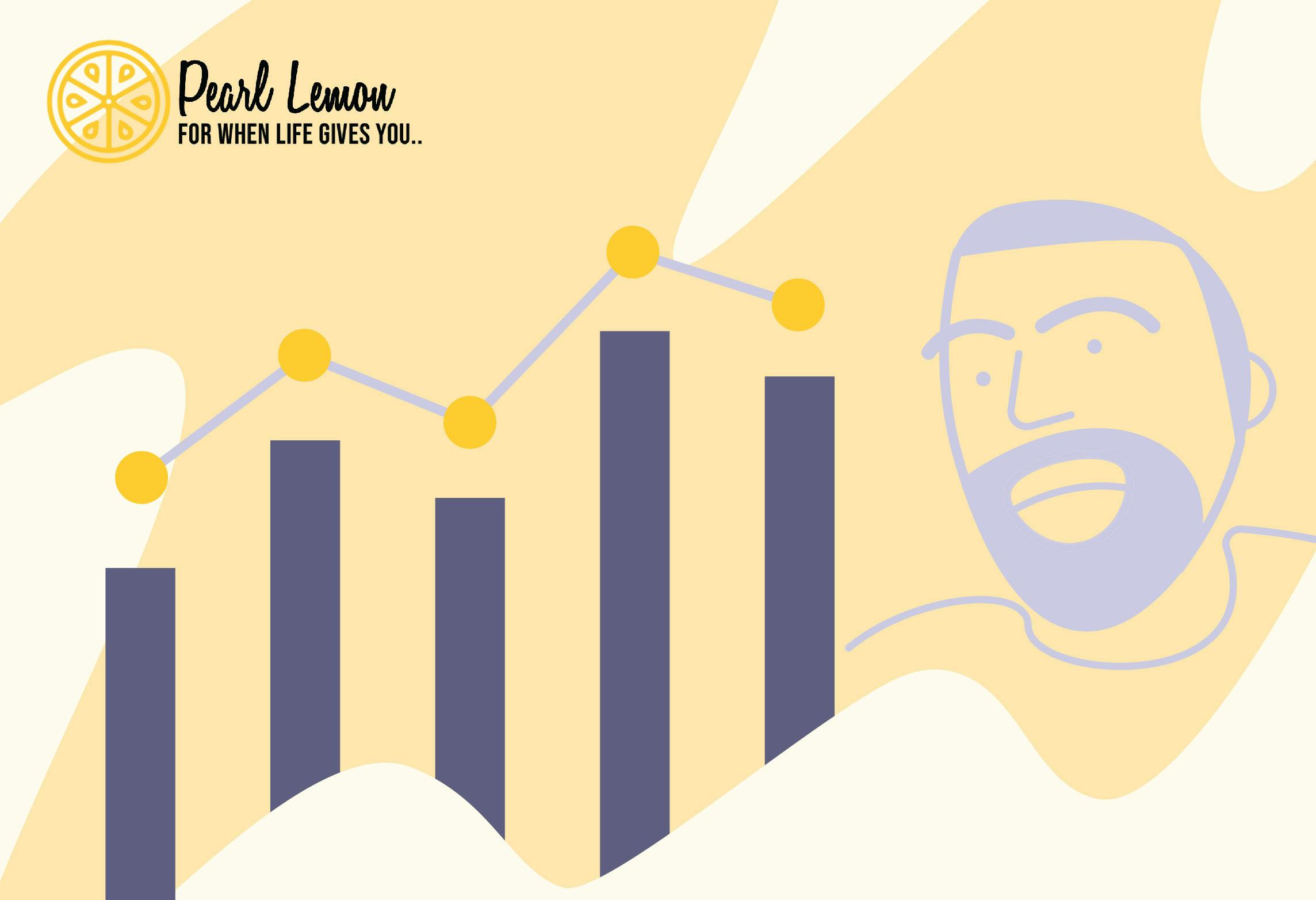 How Pearl Lemon Increased Customer Satisfaction by 33% using RemoteHQ
with Deepak Shukla, Founder of Pearl Lemon
Pearl Lemon is a premier SEO Company and Lead Generation Agency based in London UK. They increase search visibility, drive qualified B2B leads and grow client businesses with a wide array of services ranging from search engine SEO to content writing. Their global team is connected by cloud technology and a passion for all things SEO. With 20+ years of SEO experience between them, they've got a positive track record of getting optimal results for their clients! Their experienced team will double your organic traffic in 3 months. Some of their clients include Wordify, Pulse Pixel, and Lina. 
Virtual first collaboration
The Founder of Pearl Lemon, Deepak Shukla, has never run a team in person. He has always found a virtual first approach to work best for his business. As a fully remote team, Pearl Lemon needed a tool to optimize remote performance and collaboration. They work with a multitude of clients and are constantly in meetings working together. Cue in RemoteHQ. "Since we are a 100 percent globally remote company, collaboration and coordination always poses a greater challenge than if we all worked in an office. RemoteHQ has been paramount in our ability to overcome those challenges. The co-browsing and ability to save and continue work between meetings has been a great tool for our team which frequently operates asynchronously," says Deepak. 
With their entire team using RemoteHQ, they are able to track who has accessed training and attended meetings, which has been a lifesaver for their HR team. RemoteHQ saves down the session history for each meeting, allowing you to see who joined, notes that were taken, chat history, shared files, session transcription, the list goes on. These features help the Pearl Lemon team to ensure that nothing slips through the cracks in onboarding and internal training, which is vital to their business. With a global team working on a wide range of timezones, Pearl Lemon needs a tool that has saves meeting histories and notes so everyone can be on the same page. Each client has their own RemoteHQ room and therefore notes for that client are in one place. There's no need to panic wondering where your co-worker saved the notes from a client meeting. Since using RemoteHQ, Pearl Lemon has seen a surge in customer satisfaction, which is their biggest ROI in terms of using RemoteHQ. Deepak reports, " we saw around a 33% increase in customer satisfaction, due to the fact that we were able to access sensitive platforms via the client's own desktop, without them needing to share logins. This put them instantly at ease and greatly increased the chances of landing a contract."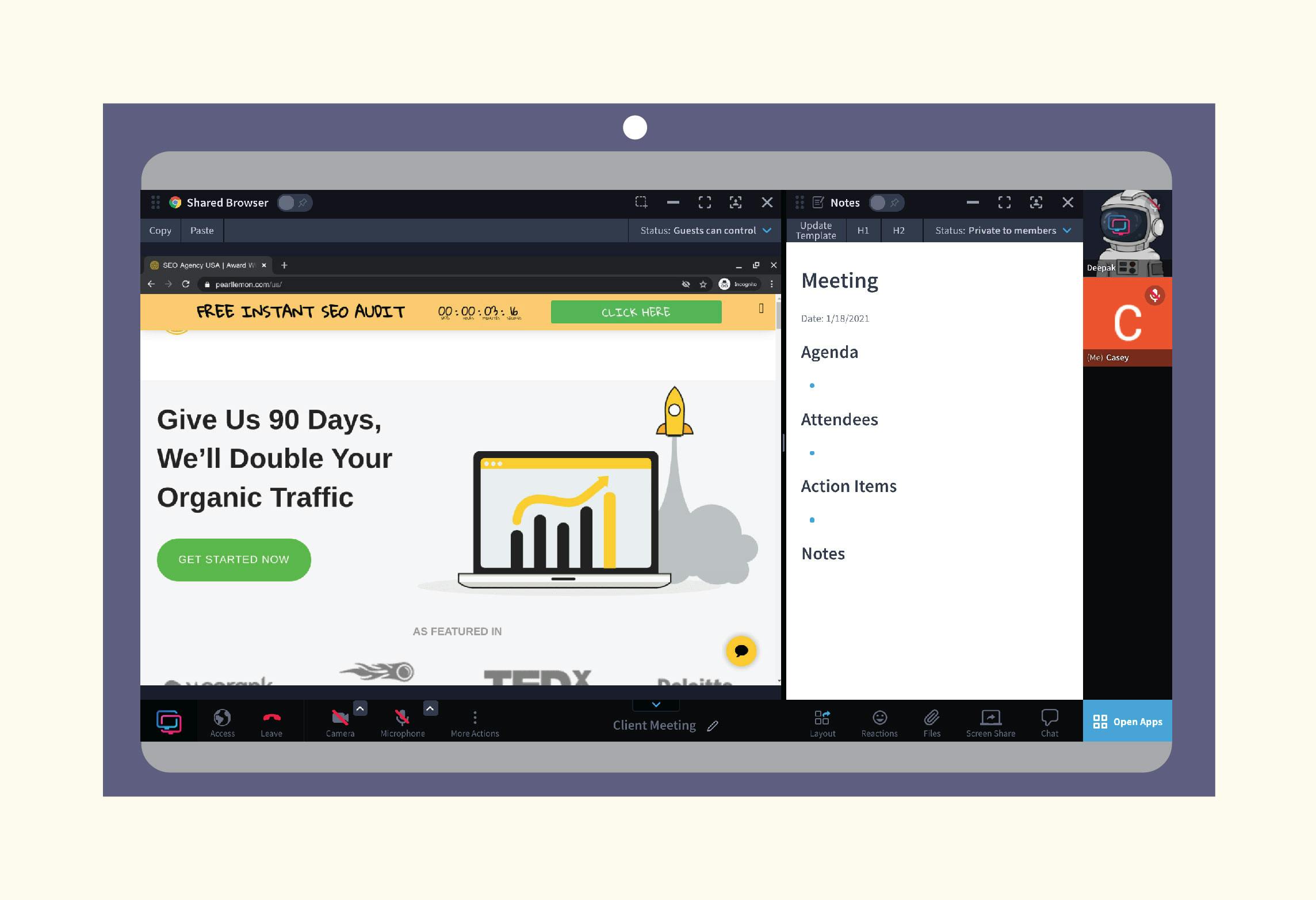 Optimizing client calls
For them, RemoteHQ has replaced Remote LogIn and a couple of other tools they were using to take control of someone else's desktop - this is largely due to the power of Remote Browser. Remote Browser allows all participants to co-browse and co-control any URL. It removes the mess and miscommunication that often comes with screen sharing. RemoteHQ is also a great meeting space, especially during real-time training sessions, and they've found that it runs smoother and faster in terms of screen-sharing/editing than tools like Zoom. With so many meetings throughout the day, with both clients and between teammates, communication needs to be seamless. Their team has also been able to onboard clients from the first week of using RemoteHQ themselves, and have recommended it to other clients because everyone has found it quite easy to use! They've found the onboarding learning curve to be small. The co-control access with Remote Browser is their favorite feature as there is no need to toggle around and users can integrate other apps with it as well.
"Ultimately, with some of the clients we have, we don't get direct developer or CMS or sensitive platform access and therefore we need to do things under their supervision. Oftentimes, it's far simpler to explain something over a screen share where you can take control of their screen and they can watch what you do. This has proved to be amazing for onboarding of clients and working through specific technical errors that exist not only through our agency but other Saas businesses."
Pearl Lemon also extensively uses the G Suite apps across all departments, from GDocs to Sheets and everything in between. RemoteHQ's integrations with G Suite allows for a seamless transition of data and workflow - one of the key features that make the platform ideal for Pearl Lemon. The team plans on continuing to drive business with RemoteHQ and increasing customer satisfaction.