In this new age of remote and distributed teams, collaborating on work-based tasks and projects still isn't as easy as many of us would like it to be. While there are videoconferencing and desktop takeover tools available, a lot of this software still falls short of creating a truly collaborative experience.
Thankfully, the development of co-browsing software is working to fill the gap.
What Does Co-browsing Software Do?
Collaborating remotely can be a frustrating experience. Many times, users are forced to work from their own devices or browsers, compile all their work, and then share it through a screen sharing, videoconferencing, or messaging software. This leaves a ton of room for error, miscommunication, and general haphazardness.
Thankfully, it doesn't have to be like this.
Co-browsing software allows users in separate locations to control and interact with a single browser, browser-based application, or software that is not physically being run on their devices.
To learn more about how cobrowsing works, check out our "What is Co-browsing" guide here.
Who Should Buy Co-browsing Software?
Co-browsing software makes an outstanding solution for a wide range of applications. From distributed teams that regularly work on collaborative tasks, learning and education institutes, teletherapy and telehealth care services, to customer support or sales teams that need to jump into a customer's browser for guidance and sales support.
A co-browsing session also may be used for these co-browsing examples: 
Boosting the customer experience with product demos
Engaging new customers in software-based startups
Enticing prospects with omnichannel sales pitches
Cutting on resolution times for Call center customer support teams and support agents
Guiding customers through complex transactions
Directing visitors to your website through a comprehensive customer journey
Onboarding and training new hires
Increasing conversion rates with enhanced Customer sales engagement
Relieving slow machines of high browser tab resource consumption
Offloading computing power from your device to a cloud-based machine
Key Considerations for Evaluating Co-Browsing Tools
Important Features For Evaluating Co-browsing Solutions
Audio Visual Quality & Speed
One of the biggest issues with many video chat, screen share, and remote support tools is AV quality from high latency and low fidelity. And unfortunately, these issues are also something that plagues many co-browsing solutions.
The common cause? Server locations.
Many co-browse software options rely on a few servers that are predominantly in a concentrated area. While this is great for users collaborating within this region, it can cause genuine problems for users that aren't based close-by.
When choosing the right co-browsing solution for your needs, be sure to choose an option that allows your team to pick between servers in various locations, like RemoteHQ. That way, high latency and low fidelity will be something you'll never have to worry about.
There's also the added benefit of security. 
Privacy & Security
Not all co-browsing solutions are run on a remote cloud machine, but for those that are, like RemoteHQ, users can rest assured their data is safe. Users in the cryptocurrency and financial space will particularly enjoy the safety and security a remote browser can offer. Well-developed remote browsers are ephemeral, meaning a user's data, search history, and other session artifacts do not persist beyond the duration of the session itself. There are times when the user wants to persist or store the session data and some ephemeral co-browsing providers offer this option, too, but the ephemeral nature of the cloud offers inherent protection and security.
No risk of phishing or malware, no third-party cookies, no targeted ads, just peace of mind remote browsing without the risk of nefarious activity.
Important Co-browsing Integrations
The right integrations can make or break a co browsing website solution. When choosing a co browsing software, it's important to take integrations into consideration. These may include:
Customer relationship management software (CRM) like Zoho CRM, HubSpot CRM, Salesforce and Freshsales CRM
Live chat tools like LiveAgent, Zendesk, and Intercom
Video conferencing tools like Zoom, Skype, and Google Meet
Communication platforms like Slack, Intercom, and Webex
Important Co-browsing Technology Considerations
Aside from the more obvious technology considerations like high-definition video conferencing capabilities and desired integrations, where a co-browsing software actually runs from is definitely something you'll want to think about.
Basically, most co-browsing tools run either as a remote browser or use middleware. 
Remote Browser
A remote or cloud-based browser works just as it sounds - it's hosted on the cloud. As an example, when a user starts a co-browsing session from India, they are using their local machine to access a remote browser that is hosted in a different location, like Malaysia. Their co-worker joins the secure co-browsing session from Singapore, connects to the Malaysian server, and the two can collaborate and share securely and safely between one another.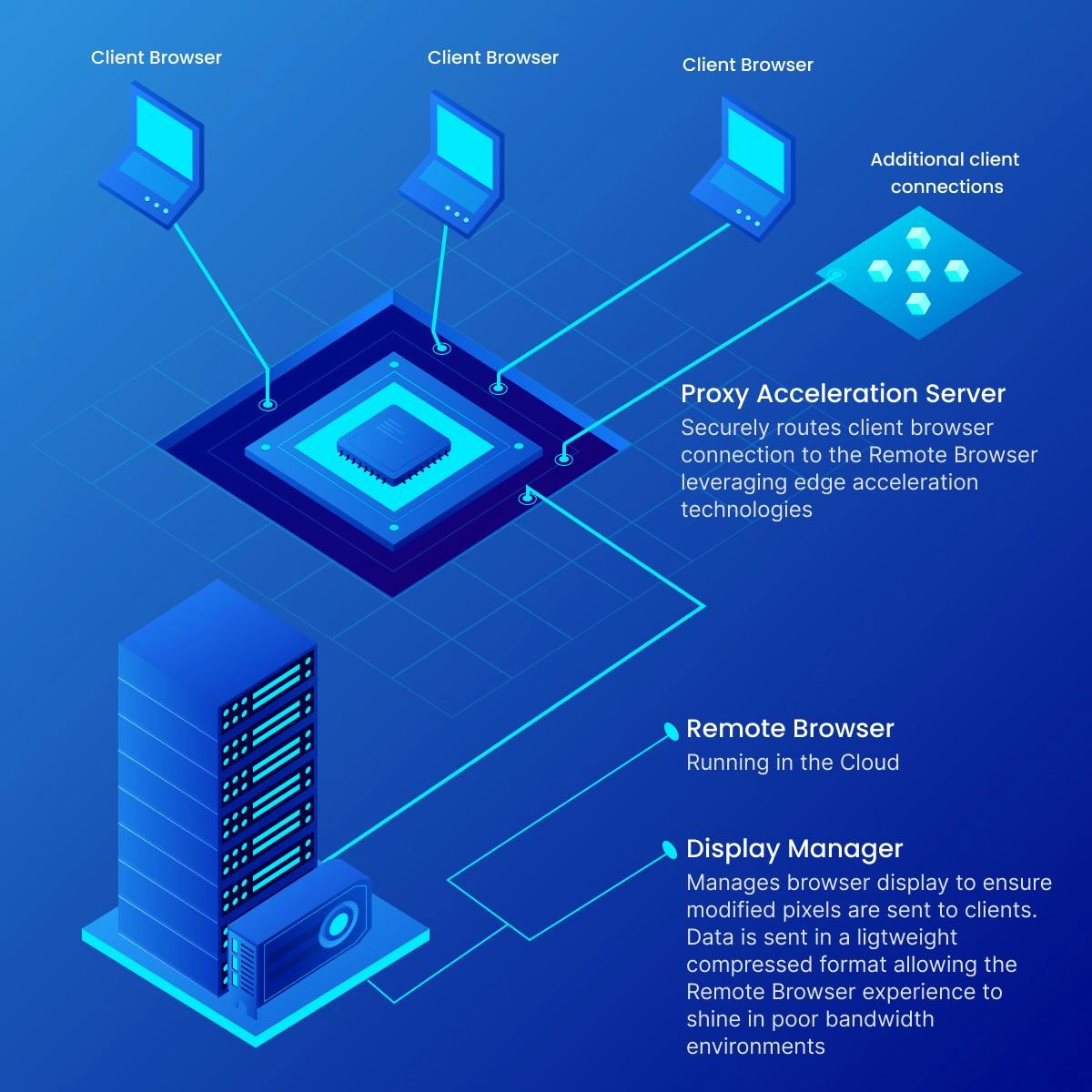 Surfly calls out remote browsing as an inferior co-browsing solution, but we beg to differ.
Middleware
Essentially, middleware doesn't require the cloud or a third-party server for users to collaborate with one another. Instead, it connects two machines together directly. While this approach has the advantage of speed and low latency, it can cause some security issues. 
Sure, any well-developed middleware technology will offer data masking and encrypt the data shared between two users. Although access management, transaction security, data integrity, and virus or malware attacks are something that requires constant management and updates by companies that offer middleware co-browsing solutions. The biggest problem with this approach is it only takes a new variant of malware to slip past the company's protections to be a threat to a user's device.

Important Co-browsing Onboarding Considerations for Your Organization
Whether it be training staff or guiding customers through sales, to make the most of co-browsing software, there are a few onboarding considerations you'll want to consider. Here's how to implement co browsing for your organization.
Ease of Adoption
Development time - To fully incorporate a new software tool into your organization, you want to minimize the time, especially developer time, it will take to customize the tool for your organization's needs so you can get the product to the end user as soon as possible. Take the product for a spin and see if the out of the box solution will meet your needs from the get go. If features are missing, speak to the provider to better understand their ability to work with you.
Fit into existing workflow - most often the co-browsing software is meant to enhance an existing product such as a collaborative video conferencing session, or a live chat. The cobrowsing tool should offer a seamless integration into these tools or workflow. The amount of friction or steps to cobrowse or co-edit will impact the end user's adoption of the new tool and cause unnecessary frustration. Trial the product as close to its real life use case as possible and see how it behaves.
Flexibility
Custom Layout - Different use cases call for different features or user experiences and every users has different preferences. Learn about the level of customization built into the co-browsing solution that can meet your various use cases and preferences.
Server Location - For teams with higher distributed team members, or even with higher centralized, it's helpful to know the co-browsing software provider can adjust server locations to optimize for speed and quality. Check the trail for these capabilities, even when consider cobrowsing tools based on remote browser technology.
What if you want to build a solution from scratch with open source co-browsing software?
Although not an easy endeavor, if you've ever considered building a co-browsing software from scratch using open source resources, understand there are options out there for development teams to achieve this:
RemoteHQ provides a embeddable browser using their co-browsing api for a straightforward custom implementation.
Upscope has released both co-browsing REST API and JavaScript API docs on Github.
Mozilla Labs also has an option they call TogetherJS that technically proficient teams can leverage to their advantage.