Customer Service: Overview
Customer service is the cornerstone of any good business. It helps you retain more customers, turn those customers into loyal fans, and has them spread the word about you to friends and family. 
And yet many businesses neglect customer service, or they fail to get it right. Why does this happen?
Companies can focus too much on closing the sale, and not nearly as much on the after-sales support. Once they've won a customer over, they don't think enough about retaining that customer for the long-term. Perhaps they don't understand the value that customer service will bring to the business, and they're placing too much emphasis on keeping costs down. 
This is the wrong approach. Increasing customer retention rates by 5% can raise profits by between 25% and 90%. Clearly, customer service is worth it. 
In this post, we'll talk about customer service and why it's important for your business.
What is Customer Service?
Customer service can take place across different channels, including email, phone, live chat, text message, and social media. Some businesses even offer self-service support, which is a way of enabling customers to solve customer service issues themselves, any time of day or night. 
Customer service is usually delivered by trained support professionals, who have the ability to resolve complex problems for customers and bring deep product knowledge to the table.
What is Customer Service?
Customer service is the care and support that you offer your customers before, during, and after the sale. It's the process of creating effortless experiences for your customers and empowering them to be successful with your products and services.
Why is Customer Service Important? 
When trying to understand the importance of customer service, the research backs it up. 
Customer service has a positive impact on purchasing decisions, and many customers will be likely to do business with you again after a good service experience - 89% of customers, in fact. 
Customer service impacts your bottom line. 68% of customers are willing to pay more for a brand that offers great customer service experiences. 
Customer service creates more demand for your products and services and separates your business from the herd. Customers are literally willing to pay extra if they know they will get a better standard of service. 
Good customer service makes customers more loyal. 86% of customers go from one-time purchasers to long-term brand champions after receiving good customer service. 
Customer service helps you retain more customers for the long haul, makes customers remember you, and stops them turning to your competitors. 
Types of Customer Service
Customer support
Customer support is the reactive service provided to customers who are using your products and services. There's more to say about what is customer support is, but suffice to say that service agents wait for enquiries to come in and then respond to customers who are having issues. Their relationship with customers is typically limited to a one-time interaction which lacks the context of the whole customer experience. All types of businesses are concerned with customer support. 
Customer success 
Customer success, in contrast to customer support, is proactive. It is the methodology that businesses use to help customers reach their goals when using their products and services. Customer success looks for opportunities to reach out to customers and make them more successful by developing relationships with them. SaaS companies are typically the sort of companies who invest in customer success. Get started by understanding more about this type of service by checking out "What is Customer Success?".
Customer experience
Customer experience is the customer's internal perception of their entire experience with your brand. It can range from receiving your products, to using your website, to interactions with your customer service team. Delivering a great CX is the key to business success and keeps customers coming back for more.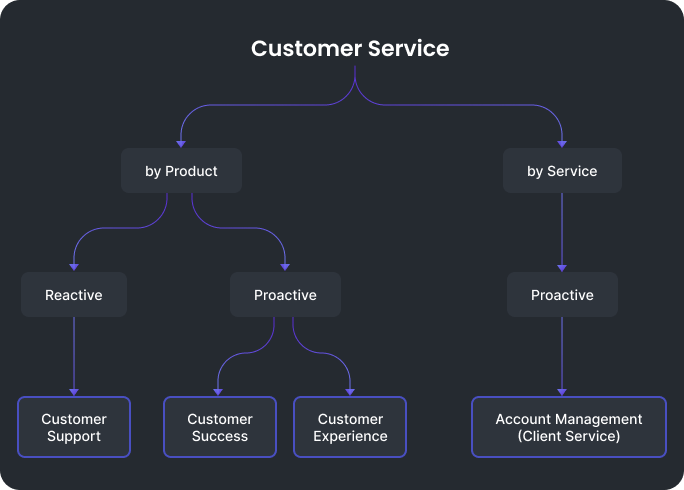 | Term | Definition | Proactive/Reactive |
| --- | --- | --- |
| | The care provided to your customers both before and after the purchase of your products or services that makes their interaction more enjoyable and fulfilling | |
| | It is a type of Customer Service. It is support found within Product companies, provided to their customers to solve issues when they have a problem or a need that they could not solve themselves. | |
| | It is a type of Customer Service. It is support found within Product companies, like an enterprise B2B SAAS business, provided to their customer that anticipates customer problems or needs and proactively resolves these issues. | |
| | Originally it was an impression that a customer gets from interacting with the product or service, but is now a name for the team responsible for improving this impression across all customer touch points. | |
| Account Management (aka Client Services) | It is a type of Customer Service. It is support found within Service Providers, like Ad Agencies, provided to your customer (ie. client or account) that anticipates customer problems or needs and proactively resolves these issues. | |
Most Important Customer Service Skills
Empathy
No list of customer service skills is complete without empathy. Customer service agents have to be able to put themselves in the shoes of their customers and understand their experiences. Empathetic service agents will be able to calm down and soothe angry customers and turn a negative experience into a positive one. Get started building more empathy in customer service by understanding what it means and learning by example.
Communication skills
Customer service agents must be able to clearly communicate with customers and get their point across. Using unclear language, rambling, or mumbling will result in customers who are unable to understand your agents. Agents must be able to phrase information in a way that customers can appreciate. 
Patience
Having patience is the only way that customer service reps can deal with rude, angry, and upset customers. They must be able to allow the customer to have their say and avoid reacting angrily themselves. They have to patiently work their way through a problem and provide assistance to the customer, who is relying on your reps to make it right. 
Listening skills
Listening skills are about hearing what a customer has to say, then going one step further to show them you understand. They should avoid interrupting the customer before they have finished what they're saying. Agents need to demonstrate active listening skills where they rephrase back to the customer what they have said. 
Service knowledge
Service reps need to have in-depth knowledge of your products and services in order to effectively troubleshoot problems. They also have the ability to upsell or cross-sell to existing customers when the situation is appropriate.
Problem Solving
Service reps at the end of the day are there is remove obstacles for the customers and allow to get their tasks completed. All of the above the culminate into this single ability to problem solve. As part of this singular skills is know what questions to ask and troubleshooting to ensure that the solution is effective.
Examples of Bad Customer Service
Putting customers on hold too long
Customers hate to wait too long to speak to a member of your team. Waiting on hold for more than several minutes is likely to inspire dread in even the happiest of customers. Considering that customers are probably calling you with a problem, waiting on hold can add insult to injury. 
Repeatedly transferring callers
Customers want their problems resolved on the first point of contact. They don't want to be repeatedly transferred between different team members who are all struggling to fix the issue. This suggests your team lacks structure and organization, without the knowledge of who to transfer the call to. 
Getting customers to repeat themselves
One of the things that angers customers the most is having to repeat information several times, like their personal details or the problems they're experiencing. Agents should be able to quickly bring up information about every customer without requiring the customer to have to share their details again. 
Inadequate tools for the job
It's so annoying for customers when you can't screenshare with the support person nor drag and drop a screenshot into a live chat box. It's a signal that the company isn't thinking customer-first and it creates unnecessary bottle necks. Consider RemoteHQ as your co-browsing software. 
Examples of Good Customer Service
Being proactive
Instead of waiting for customers to report a problem, be proactive in communicating about mistakes like a late delivery or a service outage. Customers will appreciate you taking the initiative to contact them and avoid them having to discover the mistake themselves. 
Turning a negative into a positive
A big part of good customer service is taking what could possibly have been a complaint or a problem and turning it into a positive service experience. This could be by offering a refund, a free gift, or a discounted rate for your service. It really comes down to listening to the customer's problem and finding a solution that will make them happy. 
Taking ownership of problems
There will always be service issues, no matter how good your brand is. And when mistakes or problems happen, you need to be honest and accountable without trying to shift the blame onto someone or something else. Customers will appreciate it when you own the situation and try to make things right.
What Makes Great Customer Service?
Great customer service puts the customer at the heart of everything. It's about listening to your customers and anticipating their needs. You need to meet your customers where they are, whether that's email, phone, or social media. 
Exceeding customer expectations is the key to great service. You go the extra mile for your customers to create an amazing customer experience that they will remember and tell their friends about.  
When you deliver great customer service, nothing is too much trouble. You thank the customer for bringing you a problem to solve and apologize for any inconvenience caused. 
You remember that the customer is the lifeblood of your business and there is no more important priority than making sure they are happy. 
How To Develop Customer Service Skills?
You have to actively develop your customer service skills in order to build a team that excels at customer service. 
For example, you can cultivate your empathy skills by purposely spending time with people who are different from you. You can join an acting or an improv class which will help you step into other people's shoes and supercharge your customer service. 
You can improve your patience with customers by coming to terms with how addictive anger can be. If you feel your patience running out, remind yourself tell yourself that "this too shall pass". Make a note of when you start to feel irritated and keep an eye on your triggers for the future. 
Pro Tip: Ask your customer service candidates about previous jobs that demonstrates dealing with the public and ask about their experiences at that time.
For example, Waiting tables.
Learning to waiter or waitress, especially within fine dining or high volume restaurants, can be great training for developing customer service skills. Earning tips from happy patrons means you've had to do the following well: you can learn your menu, you know how to make your customers feel welcomed, you can "read the room", you can multi-task, you can anticipate a table's needs and proactively address them, you know when it's the right time to check in with your customer, you can keep calm under pressure, and you know when to upsell or cross-sell.
Customer Service Software Tools
It's critical for businesses to have the right customer service tools to suit the situation and there has been a huge growth in software that can help customer service departments. 
Startups
Startups need software solutions that can help them scale their customer support teams effectively, effectively onboard new customers and lead to sustainable growth. At this state of your business all you might need for support is an email address and a twitter handle. You don't have so many customers that you can't deal with the influx of queries but you're anticipating more in the future. 
Small business
Small businesses need affordably priced customer service tools that enable them to serve a relatively small customer base. You might need a live chat window and ticketing, along with a screensharing tool. You will be concerned with keeping costs low and therefore interested in software that is affordable.   
Mid-size
Mid-size businesses are looking to streamline their customer service operations and will need either custome support or customer success software tools that will make them more efficient. You might be looking for software that is slightly more integrated and should consider help desk support software such as Zendesk or Zoho Desk. 
Enterprise
Businesses in the enterprise are looking for tools that can help them communicate with customers on a mass scale. You need software that is integrated across all your different channels and can provide the full picture of the customer experience.  
Managing Customer Service Teams
It takes an effective management team to help groom and hone the skills of a customer service team within an organization. You're responsible for aligning the team and ensuring they are all working towards the same goals. 
The customer service management team is charged with developing a productive culture that allows your customer service reps to do their best work. You track the performance of the team to make sure they are meeting customer service demand. 
Customer service managers provide KPIs to measure the team's effectiveness such as time to resolution or average handle time. They keep an eye on ticket volume and allocate resources accordingly. 
They ensure the team remains customer-centric and working towards retaining more customers over the long-term. They guide their team to add value to the customer experience and deliver the brand's promise to customers.
The Latest Trends in Customer Service
Customer service AI
Customer service Artificial Intelligence (AI) technologies are becoming more widespread. Some of their uses include social listening with natural language processing to identify customer issues on social media. It can also be used to assign agents to customers and ensure they have the correct skills and expertise to successfully solve their problem. 
Chatbots
Chatbots in customer service can be the first line of defense against customers who have common queries and issues. They save your customer service agents time and free them up to focus on the more complex cases. Chatbots are instantly available at any time of day and they have the potential to extend the level of customer service that your business can offer. 
Live chat
Live chat is a growing customer support communication channel, through which customers expect instant responses. Live chat can be more up close and personal than email since customers are messaging with agents in real-time. Chatting can be more convenient for agents who can hold several live chat conversations at once, therefore helping more customers with the same resources. 
Personalization
Customers strongly desire more personalized customer service experiences. They want you to have access to their personal details and purchase history, and for you to send them offers that are highly tailored to their needs. Businesses need to go the extra mile in understanding their customers, know how they are, and treat them as an individual.
Customer Service By Industry
Customer service differs by industry and there are some important nuances to consider. For example, take ecommerce and healthcare. 
Ecommerce companies are not likely to have customers in significant distress. Customers are simply spending their disposable income to buy enjoyable products. Ecommerce products are often a luxury and companies are selling a particular lifestyle. 
Healthcare, in contrast, is frequently dealing with anxious and worried customers, and the stakes are a lot higher. There is a high pressure to handle customer issues well and a need to deal with confidential information. 
In ecommerce, a service failure may result in an inconvenienced customer. In healthcare, the customer's life may be at risk.
Why Try RemoteHQ
RemoteHQ for Customer Services has the potential to significantly improve your operations. Instead of relying on the outdated technology of screen sharing, users can take advantage of co-browsing to turn any website into a collaborative experience. 
Co-browse and co-control any website by sharing your Remote Browser URL. You can grant access to anyone you wish to co-browse and co-control with. 
With RemoteHQ there is no software to install. You access your Remote Browser from any browser on any desktop. Remote Browser transmits browser visuals and nothing else so there is no security risk. You can confidently use RemoteHQ on any public computer. 
Since Remote Browser lives in the cloud with lots of resources, that means no more limited bandwidth causing screen share pixelation or freezing that occurs when you screen share. The quality is always high with RemoteHQ.
Conclusion
Delivering outstanding customer service should be a crucial component of how your business defines success. Instead of being an afterthought, your customers are at the heart of everything you do and are the lifeblood of your company. 
Retaining existing customers becomes just as important as winning new customers and your business is invested in cultivating satisfying, long-term relationships. Your business realizes the value of repeat, loyal customers and invests significant resources towards this goal. 
Your business will go from strength to strength if you emphasize customer service, and you'll be sure to develop a brand that customers love.