Embed RemoteHQ Co-Browsing into Your App
We allow developers to easily embed our Remote Browser with best in class co-browsing capabilities, through our API. Enable your sales and customer success teams to co-browse your app with customers.
COLLABORATE
Multiple Cursors with Built in Annotations
With one click you allow your users to start co-editing and co-browsing a web page in real-time or mark up your screen with annotations to clarify ideas or guide your colleagues through an app.
PRIVATE
Privacy Mode
Mask sensitive data within a co-browsing session with privacy mode so you can collaborate stress free and protect your data.
Total Control
Fine grained permissions
Preset or adjust in real-time cobrowsing permissions because sometimes you don't want to share total control with your users. Customize the permissions as you wish.
Instead of screen sharing a website, use RemoteHQ's Remote Browser

Secure
100% malware & privacy protection since we only stream the visuals of the Remote Browser from the cloud. The Remote Browser is destroyed at the end of your session and no session data is stored

Multiplayer
Simplest way to co-browse and co-control any website with your colleagues or customers.

Fast
Takes only seconds to launch a Remote Browser and get up and running.
A Few Ways to Embed Co-browsing Into Your Tech Stack.
Enhance Your Video Chat Experience
Live video chat can turn into an immersive co-browsing or co-editing experience with a click of a button.
Add Co-browsing to Your Web Conferencing
You're not making progress on a group conferencing session with traditional screen-sharing, until you make all participants co-editors.
Offer Co-browse In Your Mobile App
Embed the co-browsing-enabled embeddable browser on a mobile, desktop, or tablet experience. Within iOS or Android.
Integrate Directly Into Your Live Chat
Place the embeddable browser within your instant messaging chatbot. There's no need for video to co-browse on live chat.
Only a few lines of code to get you up and running in no time!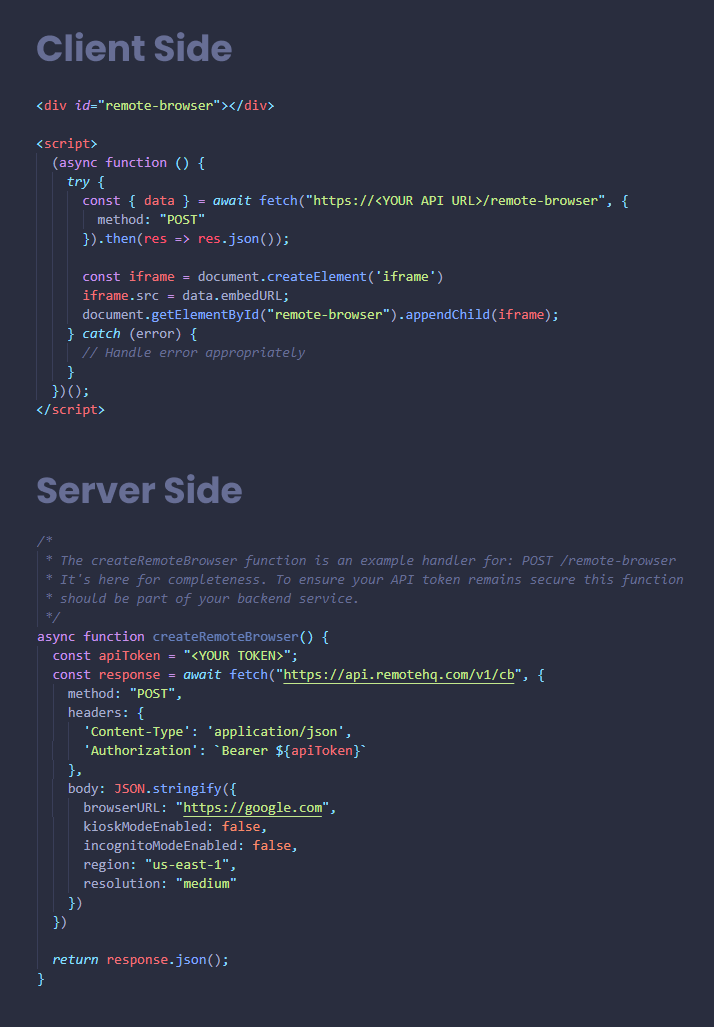 Check out the code on Github
Setup
We'll get you up and running in no time!
2
Setup
We generate you an API token and setup your secure environment
3
Configure your embedded browser
We'll send you detailed instructions on how to connect your platform with RemoteHQ and embed our solution into your application, website or network intranet. Don't worry We'll assist you along the way.
LEARN MORE
These helpful links will let you dive into the world of co-browsing
Why remote teams love RemoteHQ
See our other integrations
Support
Frequently Asked Questions
Who has access to my workspace, rooms, session history, and artifacts?
+